This remote location, 80 miles southeast of Tucson and with vehicle access that was essentially driving in a river bed, was the longest crew commute of the season at 2 hours each direction, making for some long production days as Marty, Misty and Matt Raney solved a number of problems keeping this homestead from being successful.
During the summer monsoons water flowed UNDER the home and one side of the home had sunk and was structurally dangerous. They raised and leveled the house and made it more secure as well as digging a huge trench filled with boulders to divert the water around the home in the future.
The homestead had very little usable water and they made an existing 100 year old windmill work more efficiently and installed a raised platform with a 1100 gallon water tank on it to hold the pumped water and provide gravity flow water into the home for the first time.
The homestead garden hadn't been productive. They built an addition to the home adjacent to the bedroom and installed a complete hydroponic system including circulating nutrient water and significant artificial lighting to grow crops all year long.
The homesteader's background was working with pigs at a an area pig farm causing him to be gone much of the week so they built a predator proof enclosure and breeding structure and provided 5 breeding age pigs so the family could stay together and breed, grow and market pigs from their property to provide an on-going income.
The homestead had enough solar power to light a couple of bulbs but certainly not enough to operate the new hydroponics or the warming lamps in the new pig breeding structure or heat water for bathing so a large solar installation was completed that gave the homesteaders plenty of power, night or day.
I must note that I've read a lot of conversations regarding fake or scripted reality programs and I'm here to tell you that this is NOT one of them.  This show had a total of 4 producers on location in constant contact with the people from the Discovery Channel, along with 3 camera operators, 2 sound recordists, a bunch of production assistants and drivers, a production manager, a caterer, craft services, 9 talent…and other carpentry, solar and hydroponic people…for a total location crew of 25-30 people….and none of the production crew knew for sure what was going to happen next until we heard on the radios that someone was doing something somewhere that needed to be covered.
One of the few planned items was when you see the Raneys drive up to the homestead on the 1st day of production. For this I'd already hidden their microphones on them and cameras mounted in their truck captured them arriving. This really is the first time they've met the homesteaders. After this first meeting, and throughout the shoot, they move from project to project as they want and it is up to the production crew to keep up.
The crew shoots as much as possible and probably average 15 hours of material every day generating perhaps 130 hours that must be edited down to an understandable 41 minute program. Of necessity much gets left out. On this episode I was sorry to see the time Marty Rainy encountered a scorpion while adding support and leveling the house didn't make it. It was really funny. In fact, very little of that major project made it to air.
One of the issues shooting reality television is that you ARE trying to tell a story even though you might not be totally clear what that story will be. So from time to time we shoot OTF (On The Fly) interviews where the producers pull the talent away from the action and have them explain on camera what is happening and what is planned so that the audience will understand the story.
Sometimes during post production editing, weeks or months after the shoot, the editors find that the OTF explanations aren't sufficient. Then requests go out to the field crews to do pickup shots to better tell the story so time has to be stolen from whatever location they are on to pull the talent aside OTF and have them further explain what was going on in that earlier episode. These OTF's are then edited into the appropriate episode for broadcast.
The promotional photo below was taken while I was waiting for the talent to shoot an OTF.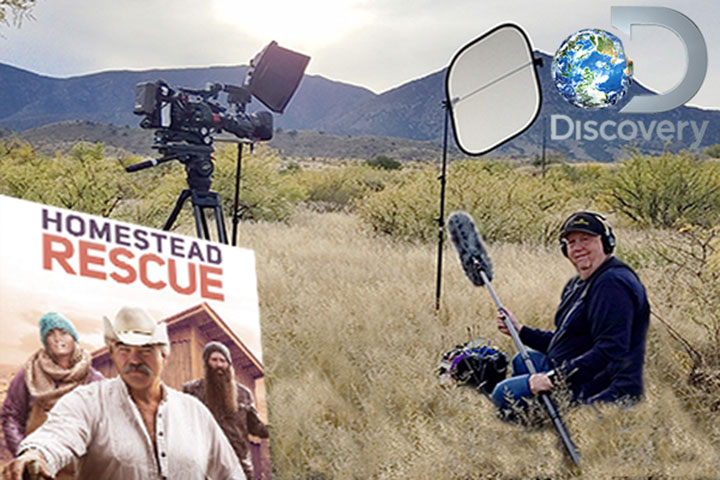 Below you'll see some pieces from an episode which was shot in Louisiana a few months before the production came to Arizona. There are several pieces of OTF interviews shot here in Arizona with a barn in the background for the editors to better tell the Louisiana story….your basic, generic, barn that could easily be in Louisiana …..or…..Arizona….with wardrobe providing the clothes that were worn in that episode. The segments shot in Arizona are outlined in red.
It was very refreshing to work with these experienced professionals and I'd gladly do it again….which is not always the case!